How to make a quick crispy snack in your microwave! Perfect to satisfy that salty savory potato chip craving in no time.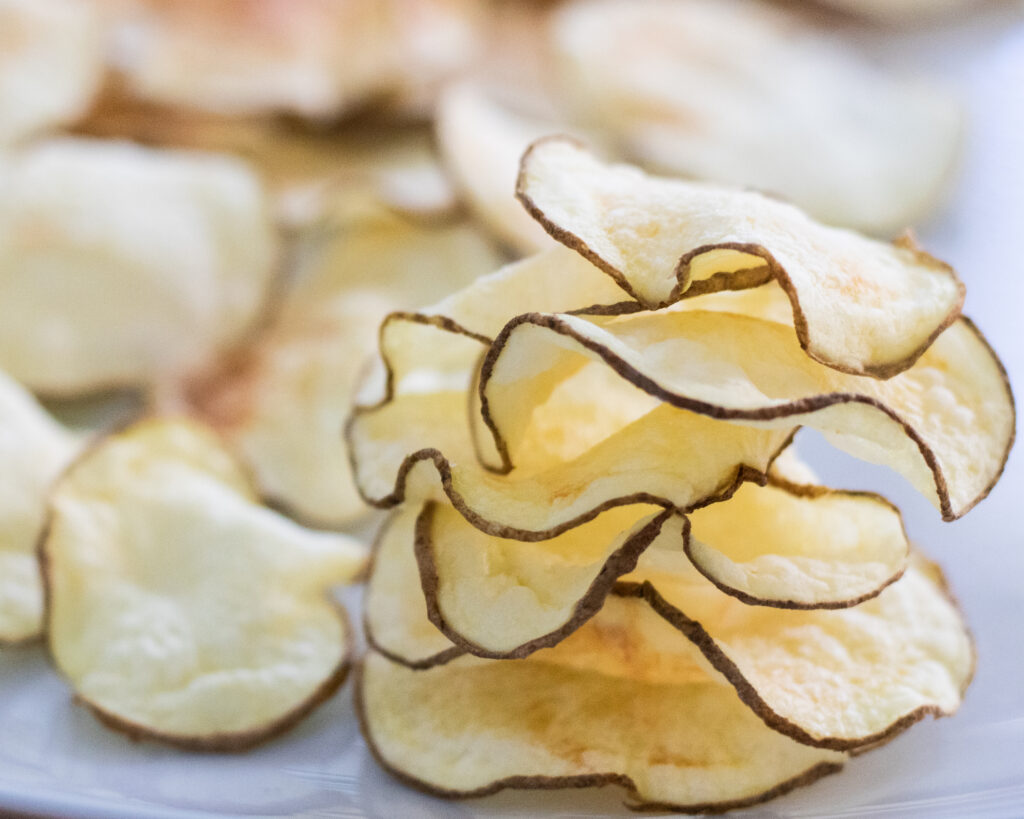 When I learned that potato chips could be made in the microwave, I was not so sure about that. I mean how could you get that perfect potato chip crisp from a microwave?
Well I was proved wrong! In fact, my first round of potato chips were a little too crispy. But don't worry, I promise you this is the recipe for perfect potato chips in the microwave. I already made all of the mistakes so you don't have to!
This microwave potato chip recipe is easy, fast, and fresh. I love using it when I need to add a little crunch to the side of my sandwich or soup. It is also a great recipe if the kids need a snack and you don't have anything in the pantry.
Why Microwave Potato Chips are the Best Potato Chips
It is the fastest and easiest way to cook homemade potato chips!
Potato chips in the microwave are healthier than store bought ones
The perfect serving size for one person, that way you don't accidentally snack away an entire bag of potato chips (I know that's happened to me!)
There is just something satisfying about making your own potato chips that makes them taste better than buying them packaged!
Ingredients
2 medium sized potatos
olive oil
salt
How to Make Potato Chips in the Microwave – Step by Step
Scrub potato and get off any dirt!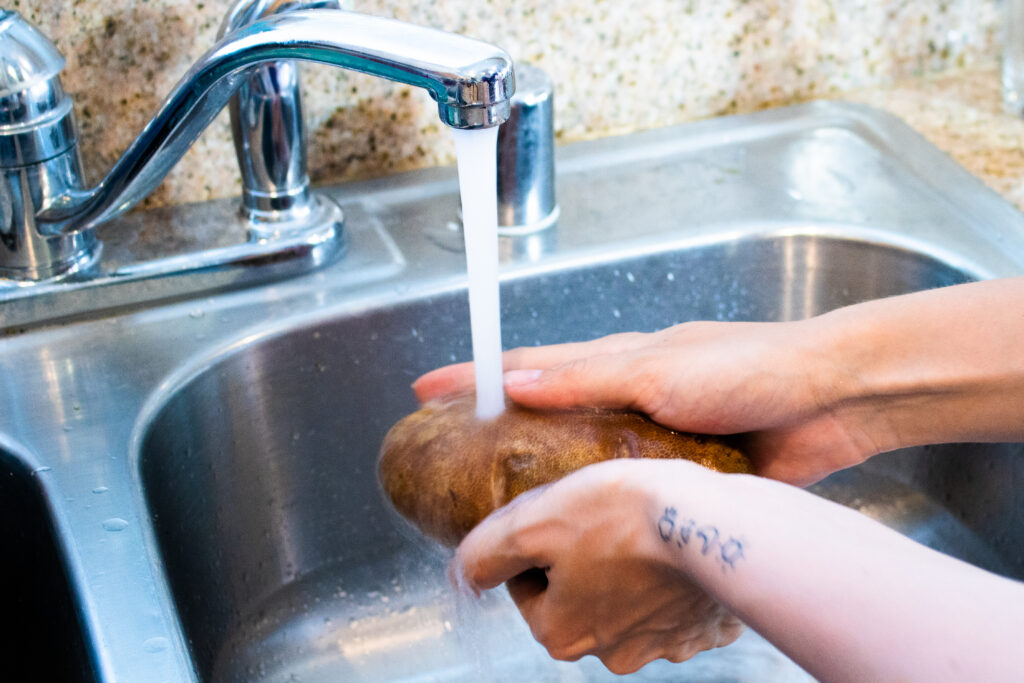 2. Cut one end off of the potato and use a peeler to slice chips as thin as possible (about 1/8 inch)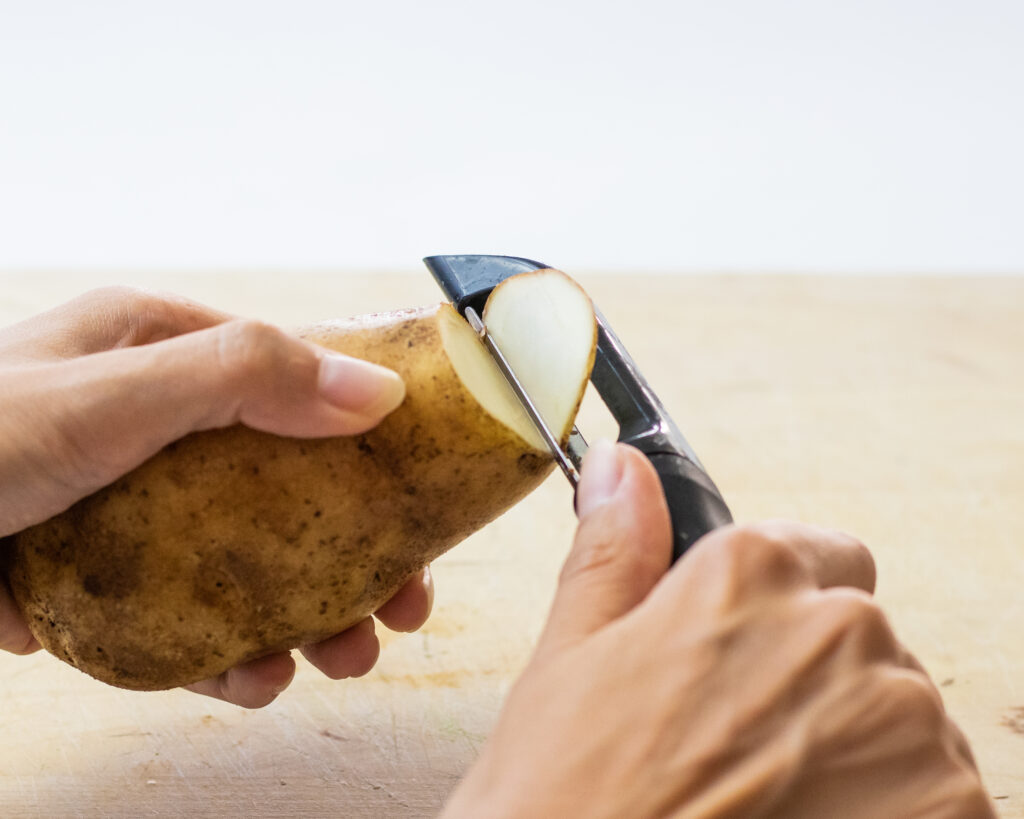 3. Promptly place slices into a bowl of ice water to remove starch and make them crispy (the longer potato slices soak in cold water, the crispier they will be)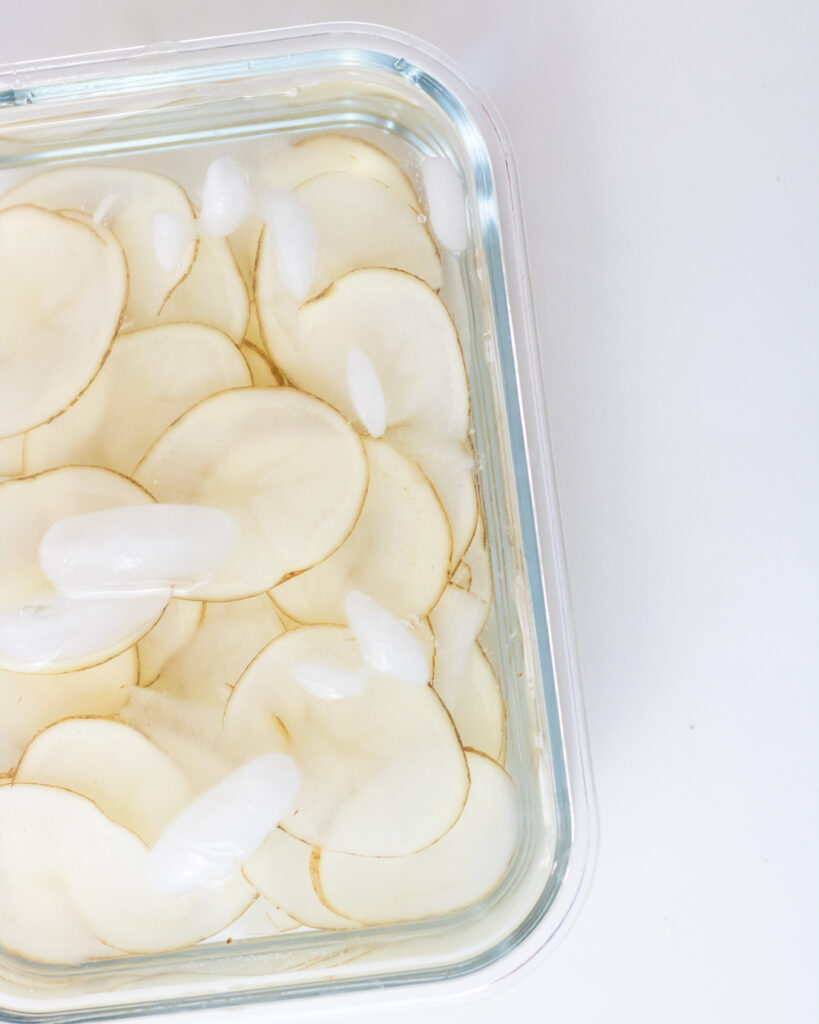 4. Remove potato slices from ice water and allow to dry (I let mine lay out on a dish towel and laid another on top of it and pressed down on them for about 5 minutes)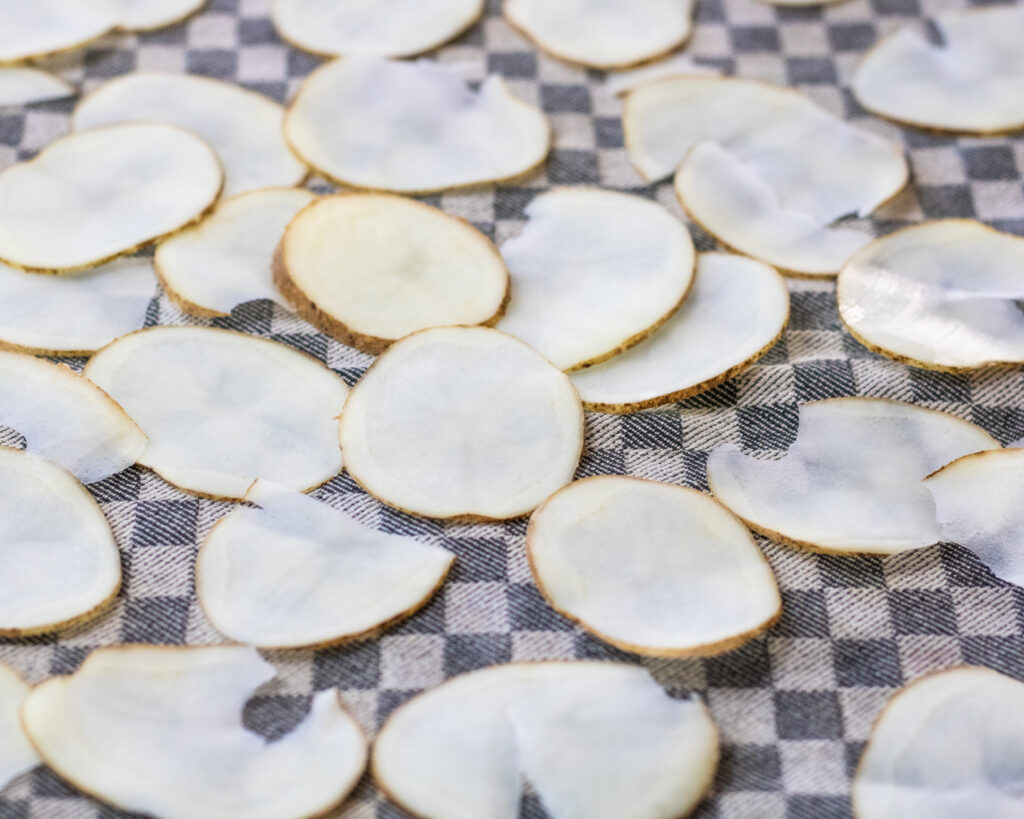 5. Line a plate with paper towels, lay potato slices out on paper towels (without touching), brush with olive oil, sprinkle with salt and pop in the microwave for 2 minutes on 50% power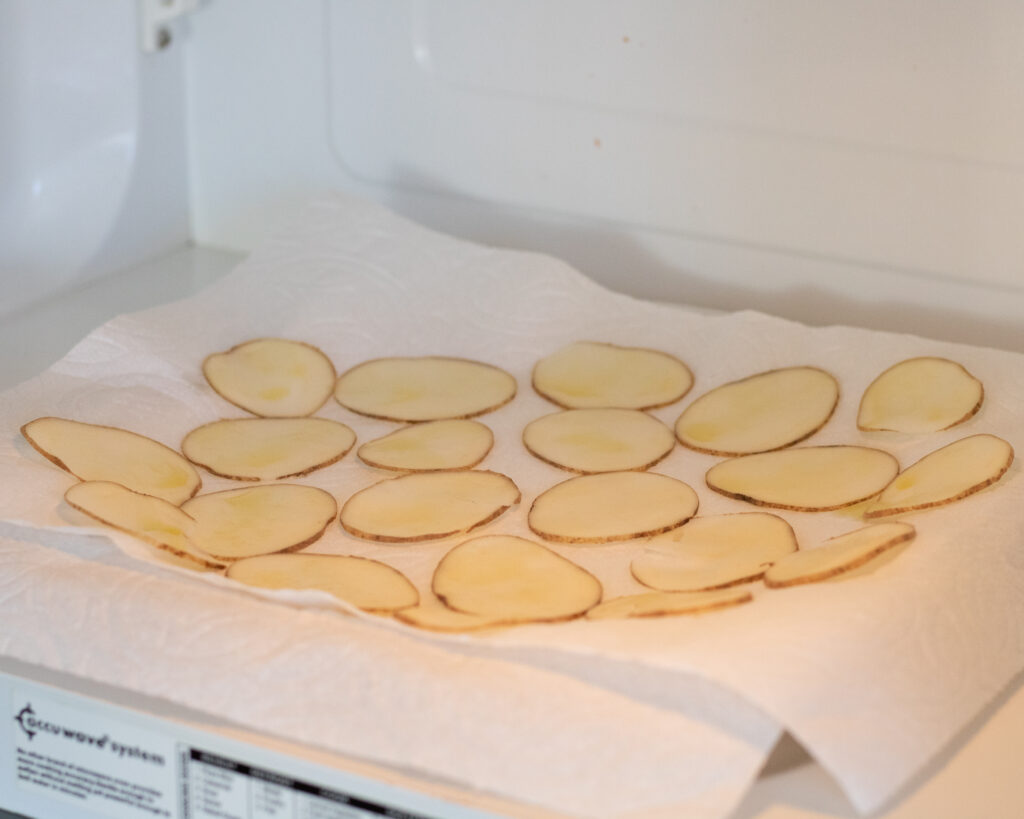 6. Remove plate (be careful it's hot!), flip chips, microwave for an additional 1 minute and 30 seconds, enjoy!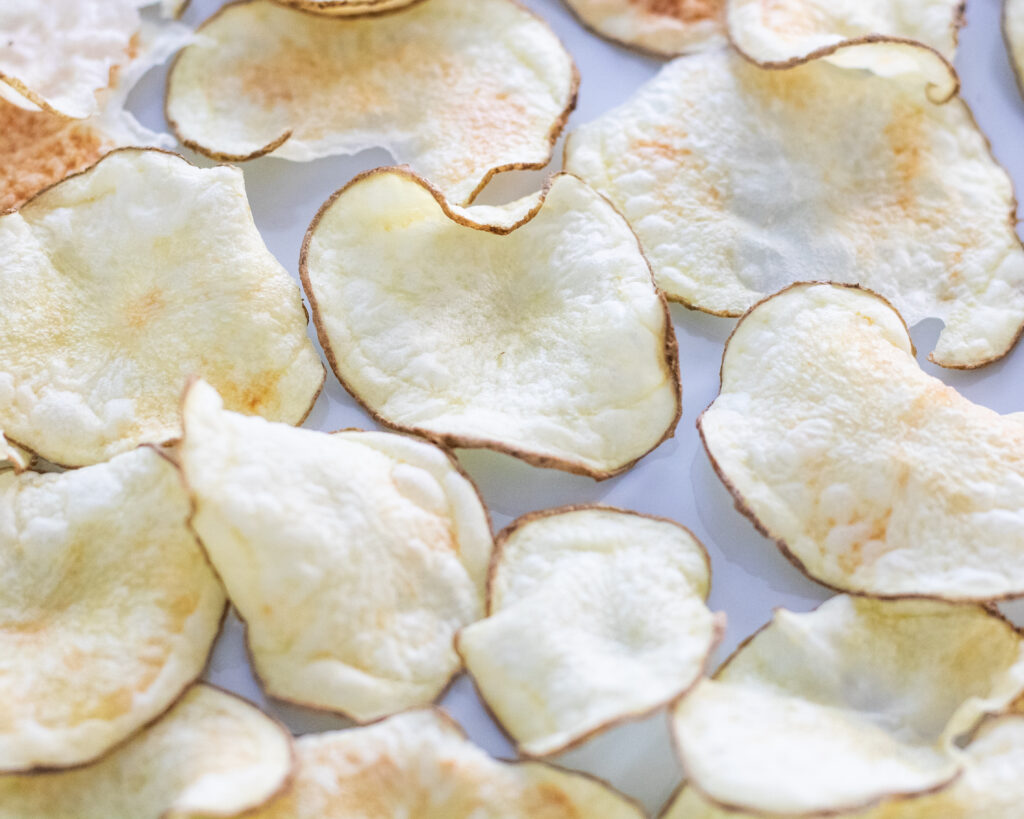 Are Microwave Potato Chips Healthier than Store Bought?
Yes! There are no preservatives in these microwave potato chips. You know exactly where all of the ingredients are coming from and how much of each you are adding/using.
You can use this recipe to make a single serving just for you. This way you don't get carried away eating a big bag of chips.
Why Soak Potato Slices in Ice Water?
As soon as a potato is sliced, it starts releasing starch, so immediately placing it in ice water will remove the starch. Starch will make your potato chips soft, removing it will make them nice and crispy.
You can also opt to wash your potato slices under cold water until the water runs clean! I just find it easier to simply plop them into a bowl right after I slice them.
What Kind of Potato Do I Use?
It doesn't matter! Have fun, experiment, let me know what potatoes you use in the comments! This recipe will work with any potatoes, I used a russet potato just because I feel like that is the universal potato.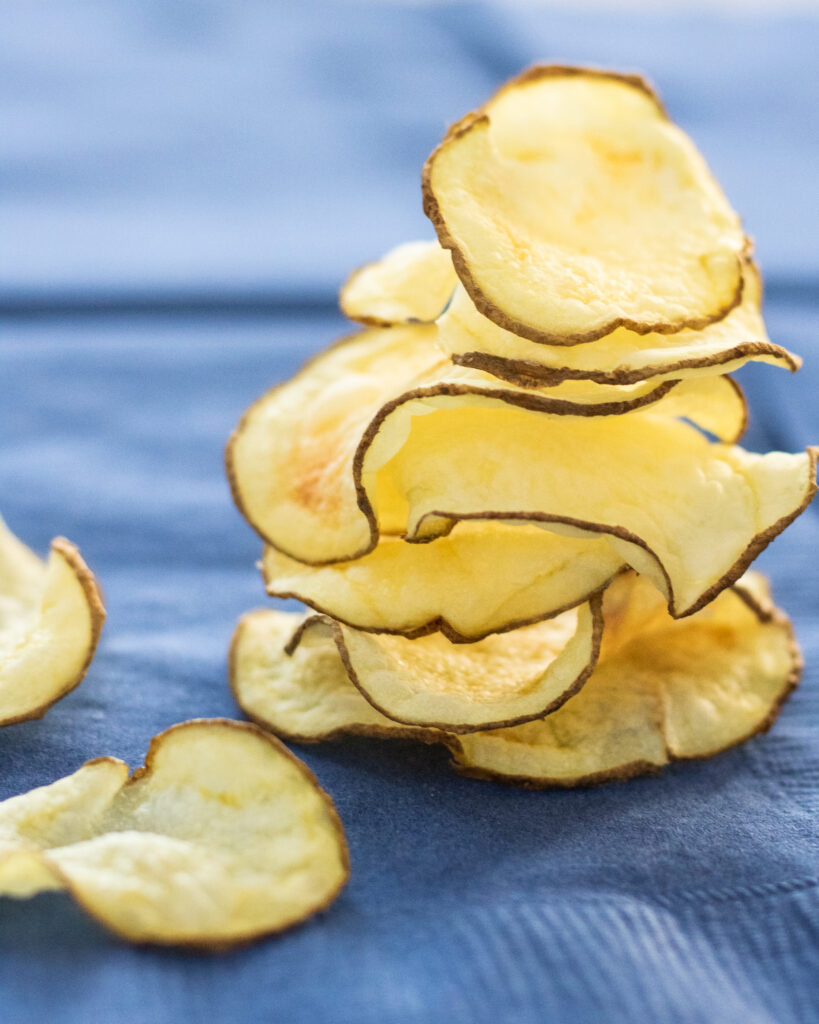 Yield: 1
How to Make Potato Chips in the Microwave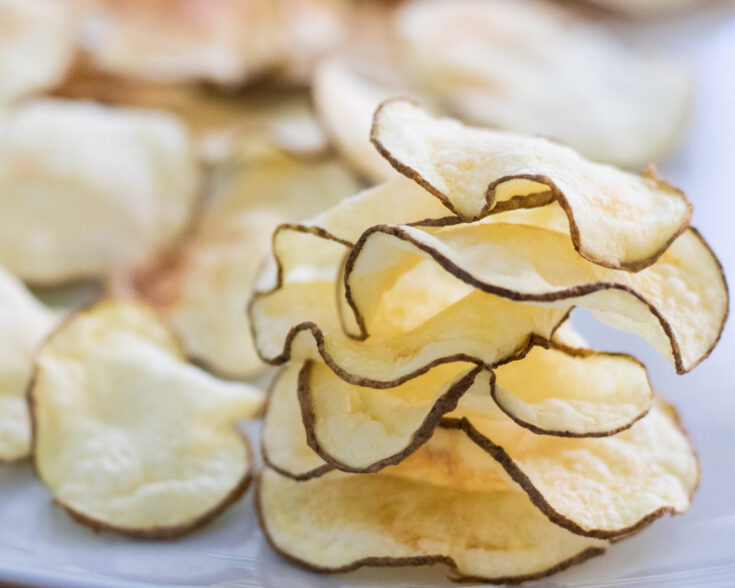 Make a single serving of crispy potato chips in your microwave! Depenidng on how many watts your microwave is, cook time may vary.
Ingredients
2 medium sized potatoes
olive oil
salt
Instructions
Rinse and scrub any dirt off of potato
Slice one end off of potato and use a peeler to peel 1/8" thin slices of potato
Immediatley place slices into bowl of cold water, let soak as you peel the rest
Remove slices from water and lay them out to dry or use a paper towel to pat them dry (the drier the better)
Line a plate with paper towels, lay slices on paper towels (not touching), brush with olive oil, sprinkle with salt, microwave on 50% power for 2 minutes
Remove plate, flip over potato chips, microwave on high for an additional 1 minute 30 seconds, enjoy!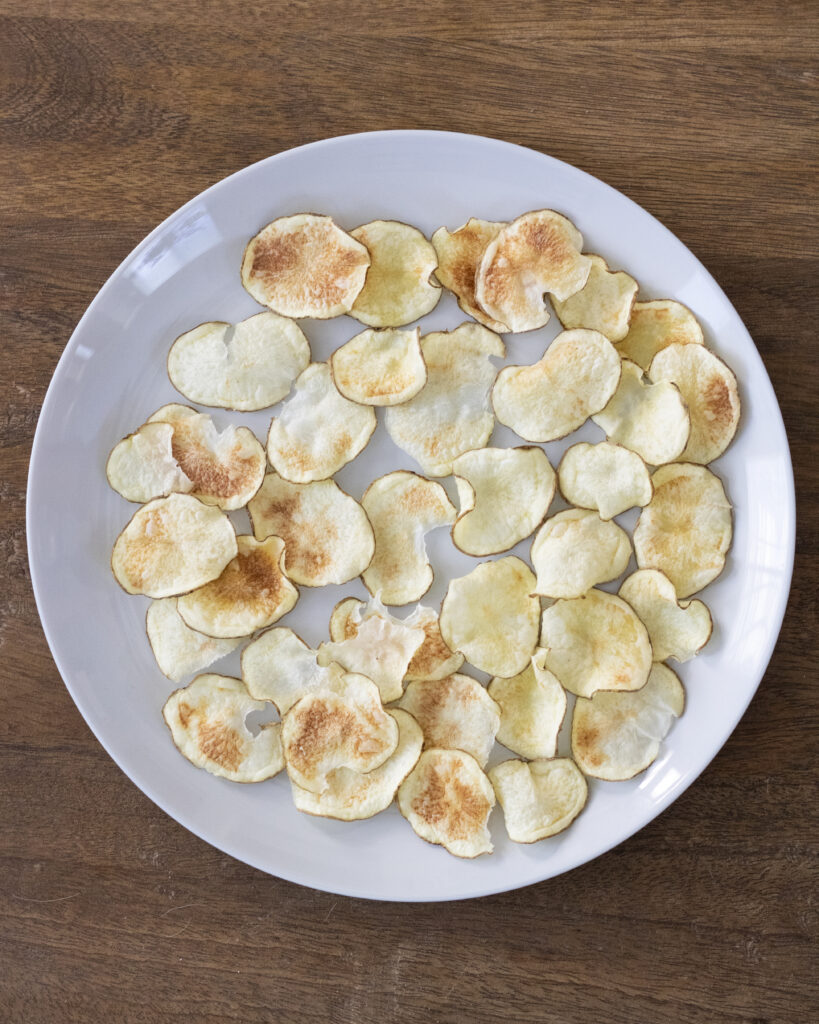 If you have tried making potato chips in the microwave, or any other recipe on my blog, then please rate it and let me know how it turned out in the comments below!