Microwave scrambled eggs is a simple way to enjoy eggs in just a couple of minutes. Mix in your favorite herbs and seasonings.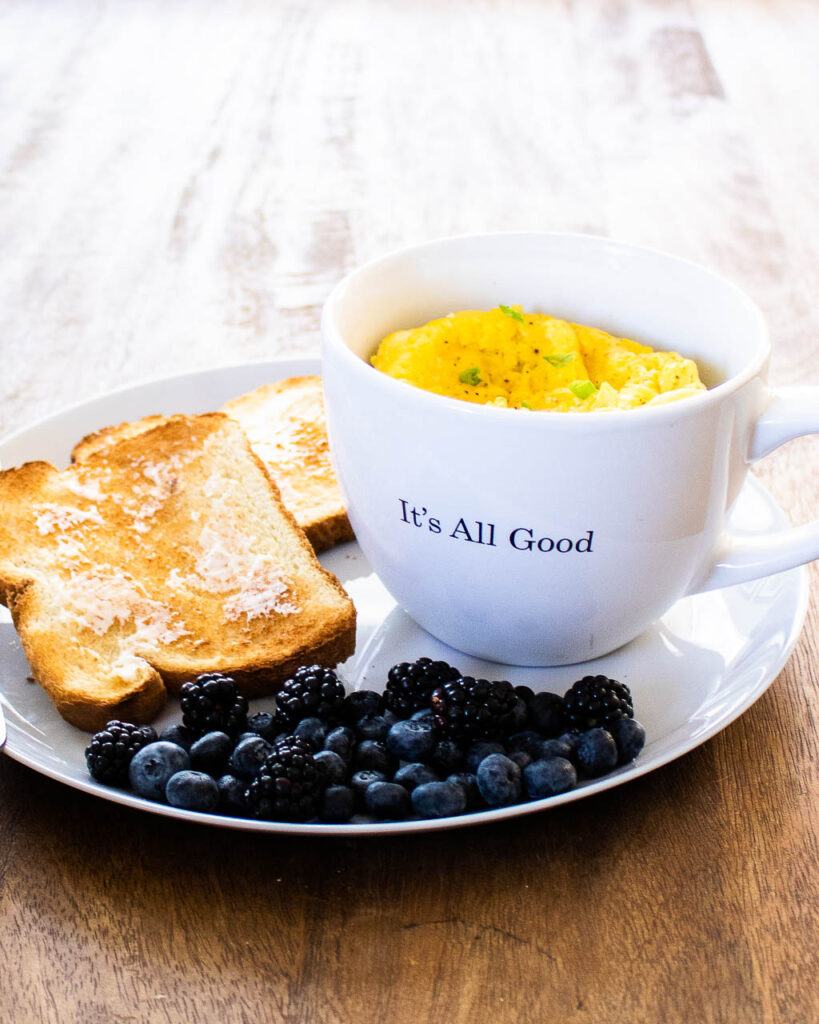 Microwaving scrambled eggs is so easy and fast, it makes for the perfect breakfast. Taking the mug in and out of the microwave to scramble the eggs, rather than scrambling them right in front of you on the stove is the only downside to this recipe. However, being able to cook your eggs perfectly in a mug and walk right out of the door makes up for that.
Why Making Scrambled Eggs in the Microwave is the Best
It only takes 1 minute!
Easy preparation and no clean up
Skip grabbing fast food on the way to work, take these scrambled eggs on the go!
A healthy, protein packed breakfast
Ingredients
Eggs
Milk (or water, heavy cream, half & half or almond/rice milk)
Salt and pepper
How to Make Scrambled Eggs in the Microwave – Step by Step
Add eggs, milk (or whatever liquid you. are using) and seasonings to a mug.
Scramble with a fork (make sure to break the yolk)
Microwave high for 20 seconds. Give it a good stir.
Microwave in 20 second increments until cooked the eggs are set and cooked through.
How to Prevent Eggs From Exploding in the Microwave
Yes, it can happen!
In college, my dorm-neighbor took an egg, and put the whole egg (without cracking it) into the microwave. Yeah, it exploded! As the egg cooks, the steam inside the egg shell builds up so much pressure that the egg will explode. So, uh, don't do that.
But I also have my own story. I once cracked an egg into a ramekin and tried cooking that in the microwave. That also burst! The yolk exploded because. it was not pricked first. All that pressure built up in the round yolk! All you need to do is prick the yolk with a tip of a paring knife, or a toothpick.
But in this microwave scrambled egg recipe, we'll be scrambling the egg first with just a little liquid, before cooking it in the microwave. You'll be just fine!
What Should I Use to Cook Microwave Scrambled Eggs?
You can use a ramekin, small microwave-safe bowl, or a coffee mug.
Can I Microwave More than Two Eggs?
Yes! Just use a microwave safe bowl. Cook 45 seconds, give it a good stir, then microwave in 30 second increments (stirring between each time) until eggs are set.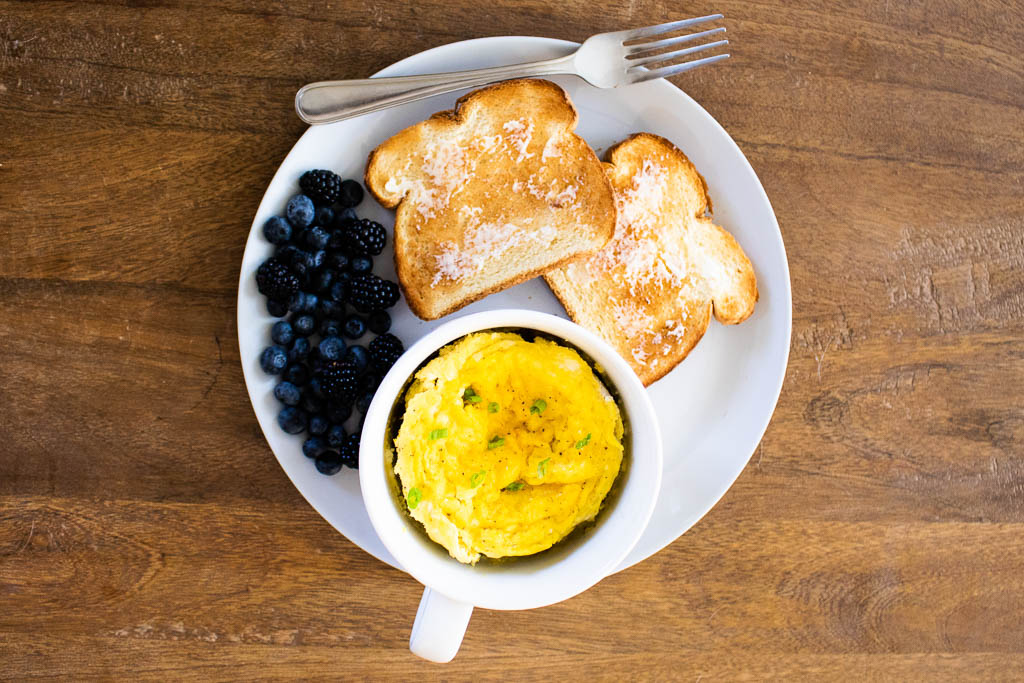 Microwave cheesy eggs & other ingredients
Add a spoonful of grated cheese while scrambling! Top with crumbled, cooked bacon.
I love substituting creme fraiche (French cream) for the liquid! Creme fraiche is thick, creamy, just the slightest tang. Add a spoonful of creme fraiche in place of the milk.
Add a spoonful of chopped ham or turkey while scrambling eggs. Oh, how about cooked breakfast sausage?
Leftover cooked vegetables (just chop up) can be mixed in too.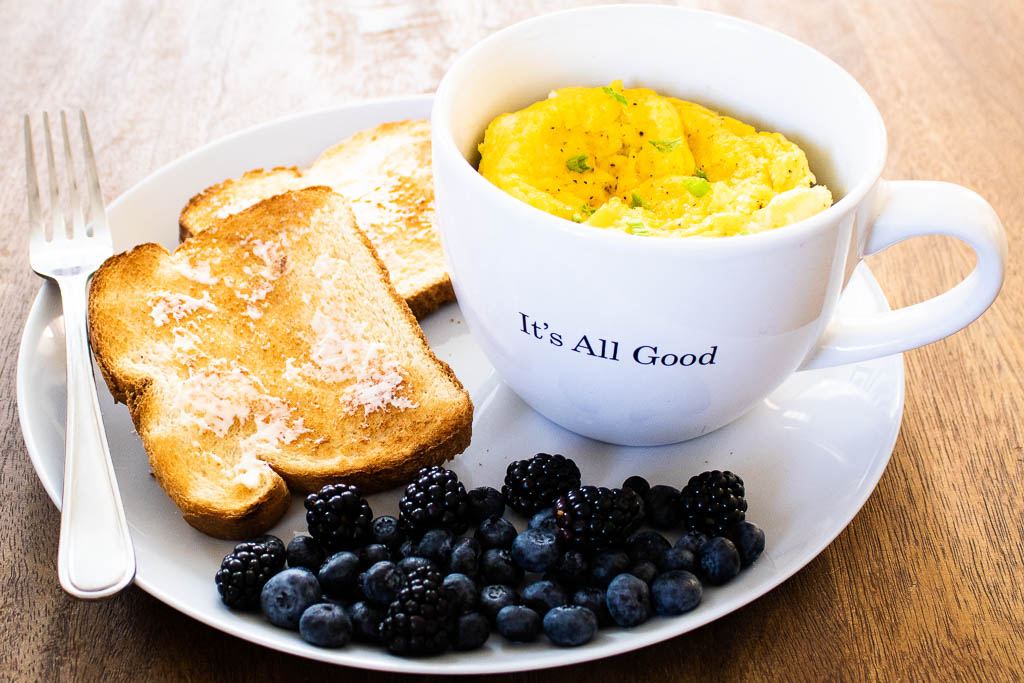 Yield: 1
Microwave Scrambled Eggs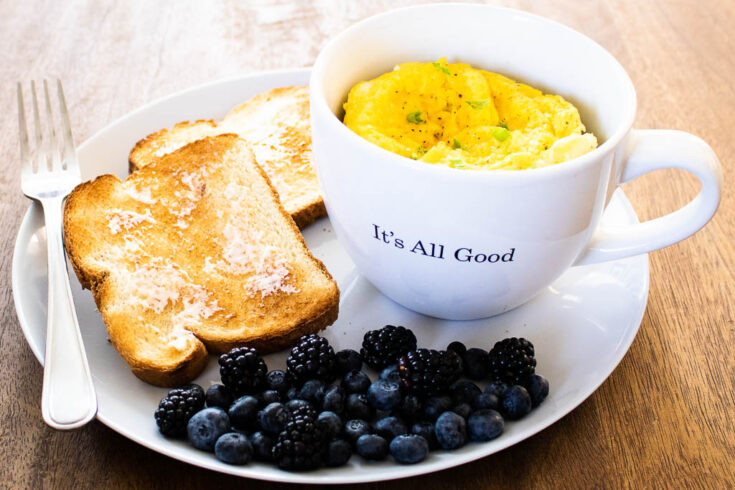 Make microwave scrambled eggs with 2 eggs. You can cook additional eggs, just make sure your microwave-safe bowl is big enough (double the volume of eggs).
If you have an older microwave (or less than 800 watts, the initial cook time should be 45 seconds)
Ingredients
2 eggs
1 tablespoon milk
seasonings to taste (salt & pepper)
Instructions
In a mug, whisk together all of the ingredients.
Microwave on high for 20 seconds. Stir. Microwave in 20 second increments until eggs are just set.
If you have tried making scrambled eggs in the microwave, or any other recipe on my blog, then please rate it and let me know how it turned out in the comments below!